By Dr Vandana Shiva*
'Golden rice is a false miracle. It is a disease of nutritionally empty monocultures offered as a cure for nutritional deficiency. In fact, golden rice, if successful, will be 400% less efficient in providing Vitamin A…'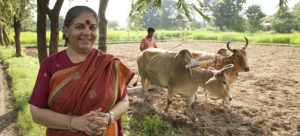 Vandana Shiva. (photo: The Seeds of Vandana Shiva film)
Norman Borlaug, father of the Green Revolution, died on September 9, 2009. Alfred G. Gilman died on December 23, 2015.
Both were Nobel laureates and now both dead. Gilman was a signatory to a recent letter condemning Greenpeace and its opposition to genetic engineering.
How many Nobel laureates does it take to write a letter? Easily ascertained — the dead Gilman and 106 others were enlisted in "supporting GMOs and golden rice". Correct answer — 107, dead or alive.
read more »