The Values Espoused by Madiba[1] Are Burnt in the Civil Unrest
The cold, wintry South African weather experienced last week was the background setting for the serious, nationwide riots, in the midst of the Third Wave of SARS Cov-2 pandemic, with the Delta variant[2], wreaking havoc amongst the large unvaccinated population of South Africa.
  Statue of Mandela Outside the Union Building in Pretoria RSA
As major cleanup operations are underway, following the looting, assisted by the community members, South Africa must face the stark reality that the values[3] as espoused by the late, great Madiba have been wasted away in the wake of great destruction caused by the very Black communities he fought for, at the expense of his own, personal life.
The present wave of civil unrest was the very antithesis of the qualities and great statesmanship shown by the first democratically elected President of South Africa, Mr Nelson Rolihlahla Mandela.[4]
His autobiography, "Long Walk to Freedom"[5], also made into a $85 million budget, American, big screen movie[6], whose film rights were acquired by a South African, pre-eminent film producer, a person of Indian origins, Anant Kumar Singh.[7]
The book encapsulates Mandela's life of patient perseverance, dignity, honour and mutual respect for all, including his prison warden in Robben Island,[8] where he was incarcerated for 27 long years.
This imprisonment, on the island, in the shadow of the Table Mountain[9], was his life sentence for his fight against apartheid and the oppressive, White, racially discriminative government of South Africa, for over 342 years, since the first White man arrived in South Africa, of Dutch Origin[10]
The book, Long Walk to Freedom is a chronicle of Nelson Mandela's life journey from his childhood in a rural village of Qunu[11] in the present-day Eastern Cape, through to his inauguration as the first democratically elected president of South Africa.[12]
The basic storyline of the book is Nelson Mandela is a South African lawyer who joins the African National Congress[13] in the 1940s when the law under the apartheid system's[14] brutal tyranny proves useless for his people.
Forced to abandon peaceful protest for armed resistance after the Sharpeville Massacre[15], Mandela pays the price when he and his comrades are sentenced to life imprisonment for treason while his wife, Winnie, is abused by the authorities herself. Over the decades in chains, Mandela's spirit is unbowed as his struggle goes on in and beyond his captivity to become an international cause.
However, as Winnie Mandela's[16] determination hardens over the years into a violent ruthlessness, Nelson's own stature rises until he becomes the renowned leader of his movement.
That status would be put to the test as his release nears and a way must be found to win a peaceful victory that will leave his country, and all its peoples, unstained.[17]
The book "Long Walk to Freedom" was first published in 1994 by Little Brown & Co.[18] in the United Kingdom. The book profiles Madiba's early life, coming of age, education and 27 years in prison. Under the apartheid government, Mandela was regarded as a terrorist and jailed on the infamous Robben Island for his role as a leader of the then, banned and outlawed African National Congress.
Madiba later achieved international recognition for his leadership as president in rebuilding the country's once segregationist society.[19] The last chapters of the book describe his political ascension and his belief that the struggle still continued against apartheid in South Africa.[20]
The book won the Alan Paton Award in 1995[21] and has been published in many languages, including an Afrikaans translation by Antjie Krog.[22]
Long Walk to Freedom has also been adapted into a film titled "Mandela: Long Walk to Freedom", directed by Justin Chadwick[23], written by William Nicholson[24], and produced by Anant Singh.  Mandela personally awarded the film rights to the book to Singh's, company, Videovision[25] some years before 2009.
Singh believes that as the film is based on Mandela's writing, it will be the "definitive" biopic of him.[26] English actor Idris Elba[27] portrays Mandela in the film.[28]  Idris Elba, according to the critics, delivered a towering performance as Mandela.  The film had a limited released on 29th November 2013 in the United States.
The full release was on Christmas Day 2013 in the United States.[29] When the film was premiered in London for Prince William and his wife, Duchess Kate Middleton[30], Mandela's daughters, Zindzi Mandela[31] and Zenani Mandela[32], who were in the audience, were notified by mobile, of the news that their father Nelson Mandela had just demised on 5th December 2013, at the age of 95.[33]
When asked whether they would like the screening to be postponed, they insisted that the premiere go ahead as planned. The sad news, however, was not shared with the rest of the patrons, who sat through the entire screening, unaware of Mandela's passing.
It was not until after the credits rolled at the end of the film, that co-producer Anant Kumar Singh personally took the stage to break the news to the audience. The auditorium lapsed into a 2-minute silence as a gesture of respect.[34]
Madiba had a full State Funeral[35]. He was buried on 15 December 2013 at his ancestral home in Qunu[36], as his coffin was lowered into the grave,[37] it was the beginning of the moral decay of the Rainbow Nation[38], as fondly called by Bishop Desmond Tutu[39], which was to climax on Friday, 09th July 2021.[40]
Amongst the numerous quotes of Madiba[41] the most relevant one for South Africans to reflect upon, during the July 2021 unrest and anarchy, is "I have walked a long walk to freedom. It has been a lonely road, and it is not over yet. I know that my country, was not made to be a land of hatred. No one is born hating another person because the color of his skin. People learn to hate. They can be taught to love, for love comes more naturally to the human heart".
This philosophy is also intertwined with the local South African philosophy of ubuntu[42]. Ubuntu, pronounced in isiZulu as ùɓúnt'u[43] is an Indigenous Nguni[44] term meaning "humanity".
It is sometimes translated as "I am because we are", or "humanity towards others", or in Zulu, umuntu ngumuntu ngabantu. In Xhosa[45], umntu ngumntu ngabantu but is often used in a more philosophical sense to mean "the belief in a universal bond of sharing that connects all humanity".[46]  The great Madiba, Nelson Mandela explained Ubuntu as follows:[47]
A traveler through a country would stop at a village and he did not have to ask for food or for water. Once he stops, the people give him food and attend him. That is one aspect of Ubuntu, but it will have various aspects. Ubuntu does not mean that people should not address themselves. The question therefore is: Are you going to do so in order to enable the community around you to be able to improve?
This spirit of unbuntu, was totally non-existent, when Black mobs, in major cities and towns in Gauteng and KwaZulu-Natal, went on rampage from the day when former President Zuma was jailed, creating a path of total destruction, looting and burning the businesses principally owned by minorities, although some Black businesses, as well medical practices were also looted in the process.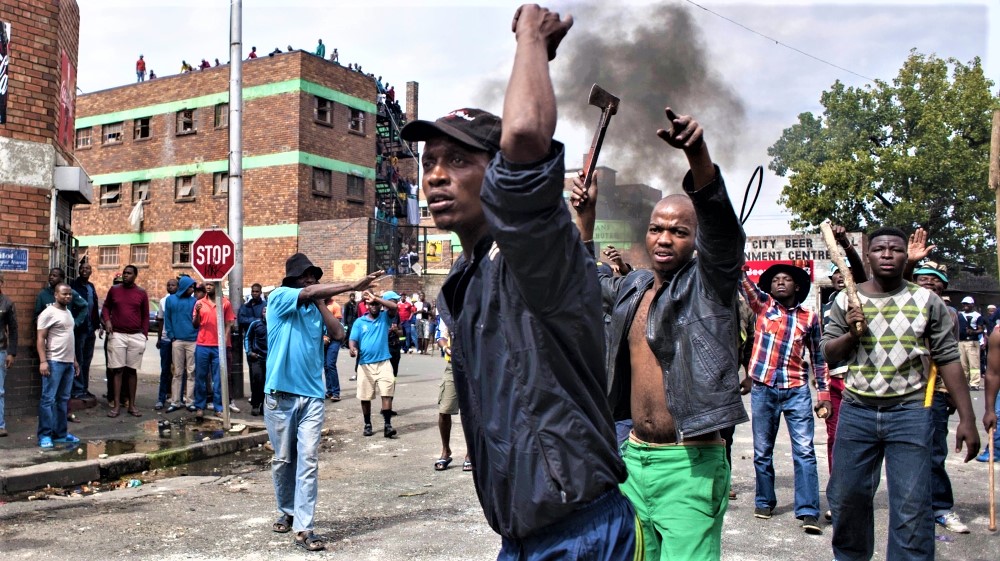 These huge mobs were also Covid-19 super spreaders, because in spite of the Level 4 national lockdown announced by the President Cyril Ramaphosa, the elected leader of the African National Congress and the country.
Subsequently, the total number of deaths from SAR Cov-2 infection in South Africa are reported to be 2,342,330 infected cases and| 68,625 deaths according to John Hopkins Coronavirus Resource Centre records.[48]
South Africa has a total, accounted population of 59,572,622[49].  This figure excludes the thousands of illegal migrants from adjoining African countries, the further cause of human suffering and xenophobia in South Africa.
The national, South African television channels were practicing self-censorship, as foreign media such as Al Jazeera and RT showed the real impact of this violent insurrection in smaller towns, such as Bulwer in KwaZulu-Natal, mainly directed against the minority businesses.
It was reported that 20 private pharmacies were looted and burnt, resulting in the theft and loss of 47500 vitally needed Covid vaccines for the community.  South Africa has reached a landmark number of only 6 million vaccines being administered.
The violent insurrection has resulted in 330 deaths during the protests and the government is appealing to the public to come into state mortuaries, where corpses are piling up.
The author has personally inspected such mortuaries to identify an elderly father of a family and noted these horrific conditions, where some bodies are already decomposing, to the accompaniment of obnoxious odours emanating from the dead humanoids and uncared for humanity.
These bodies are literally stored on top of one another, often naked, of different genders, with absolutely no respect for the deceased, in view of space constraints.  Often the refrigeration is inadequate, even with the winter temperatures experienced presently, as the additional bodies are stored in a facility designed for fewer corpses.
Ethics and respect are violated due to the serious constraints experienced by mortuary attendants, often working under dangerous, biohazardous conditions.  It is also interesting to note that very few family members have come forward to the mortuaries to identify the deceased, hence the special public appeal for relatives to come forward.
The civil unrest of July 2021 commenced following the sentencing of the former president, Mr Jacob Zuma because of his non-attendance at the State Capture hearing of the Zondo Commission of Enquiry,[50] following the nefarious collusions between Mr Zuma and the Gupta Brothers[51]from India.  This non-compliance to attend the proceedings was classified as contempt of the Court and the 79-year-old former president was sentenced to 15 months in prison at the Estcourt Correctional facility in the province of KwaZulu-Natal in South Africa.
Mr Zuma has a large support base of followers and these individuals took to the streets of most cities in KwaZulu-Natal and major cities like Johannesburg in the Gauteng Province. This resulted in unbridled destruction of properties, warehouses, storage facilities businesses, supermarkets, general hypermarkets, medical facilities, pharmacies, clinics, vaccination centres, industries, distilleries, homes, public transport and private vehicles.
This went on unchecked by the South Africa Police services, the metropolice as well as the delayed deployment of the South African National Defence force for reasons not yet established.
On Friday, 23rd July the South African Human Rights Commission[52] hosted a dialogue meeting with various organisations focusing on the civil unrest and looting which took place in certain parts of KwaZulu-Natal and Gauteng last week.[53]  It is reported that 2o schools were looted and torched as a standard modus operandi of the looters. Even a school for children with special needs was stripped bare by looters, with no exception.
In the interim, Mr Zuma was granted leave of absence, from the prison, under section 44 (1)(a) of the Correctional Services Act. Mr Zuma, who is classified as a "short-term, low-risk inmate", was seen wearing a white fedora hat and a formal blazer.
The funeral funeral was held in Nkandla, the former President Zuma's hometown in northern KwaZulu-Natal, on 21st July 2021. 'I will be back very soon': said Mr Zuma, as he bids a positive farewell message to brother before returning to jail.[54]
A department spokesperson, Mr Singabakho Nxumalo said: "He is safely back in custody", as the former president Jacob Zuma returned to the Estcourt prison to resume his 15-month sentence for contempt of court.  In granting him permission, the department had to consider various elements including what activity Zuma wanted to attend, how long he would be temporarily released and the security risks involved as he still needed to be protected by the Presidential Protection Unit, as a former President.
While the funeral service took place under heavy police presence, the Zuma family expressed gratitude to the state for allowing the former president to pay his last respects to Michael.
Zuma's brother Khanya, 77, told Times LIVE that the family was delighted to see Msholozi. "He arrived in the early hours of Thursday morning and I got a chance to speak to him at the funeral. He was his usual jovial Gedleyihlekisa, but he was hiding the hurt. He has always been like that. He does not show that he is in pain," said Khanya. Khanya said his brother told him: "Ngiyabuya khona manje Zuma."
This translates to "I am coming back soon, my brother". As per local custom, when there is a funeral, the men in the family usually wake up at 4am to dig the grave to prepare for the burial, said Khanya, but in this case the family used a TLB machine.
Zuma's wives, including Sizakele MaKhumalo-Zuma, Nompumelelo MaNtuli-Zuma and ex-wife and mother of his children, Cogta Minister Nkosazana Dlamini-Zuma[55], were in attendance. The Zuma family will begin a three-month mourning period.
Mr Zuma's eldest son, Edward, also thanked the government for allowing his dad to leave prison for the funeral.  However, the Zuma family is gravely concerned of his father's safety in jail. When asked what made the family believe that Zuma was not safe in the prison, he said: "There have been many things that they have been doing that point us to believe that they want this man dead.
They do not want to see him alive and we want to say that they must stop doing what they are doing because we aware of it."  Edward also stated that the family was not happy with the heavy police presence in Nkandla[56] as it made them "feel like they were treated as though they were criminals". He would not be drawn on commenting on whether Zuma had been offered a presidential pardon, as widely anticipated.
Addressing the recent looting spree which started shortly after his father was arrested, Edward said: "As a family it has never been our intention [to cause instability]. Our intention is for justice to prevail. "What happened is very wrong, we denounce it and it should never happen again.
However, as the violence continues, albeit, with residents taking on the role of protecting the communities, another category of violence erupted in the huge townships around Cape Town of Gugulethu[57] and Khayelitsha[58].
These are the ongoing "Taxi Wars"[59] over the routing of Black owned taxis by different factions. The Taxi association and their bosses are constantly involved in shootouts, striking terror angst the communities, resulting in killings of taxi drivers as well as commuters throughout South Africa.  The taxi industry is largely unregulated and is a force that can hold the government and communities to ransom.
Multiple cash in transit vehicle heists are a frequent occurrence on South African highways, when well-armed, Black gangs, with automatic rifles attack these vehicles, often killing the drivers and disappear with enormous sums of cash. Usually, the law enforcement officers totally fazed and unable to do much.  Many such cases are still under investigation with allegations of high-level corruption and police collusion.
In such an attack, a police officer was killed in shooting with cash in transit robbers as well as two robbers were shot and killed. The South African public is accustomed to these brazen, daylight robberies, as they are frequent features of normal life in South Africa.
Robberies of jewelry stores, in megamalls, such as the Gateway Theatre of Shopping[60] in the upmarket suburb of Umhlanga Rocks[61], north of Durban are occurring repeatedly.  There is usually random shootings by poorly trained and equipped police. Invariably, the criminals escape, unscathed with the loot, in black bin bags, often containing expensive watches and high-end jewelry.
The riots have weakened the economy even further, already embattled by HIV / Aids, Tuberculosis, rising SARS Cov-2 infections, permanent closure of businesses looted and burnt during the riots, as most small businesses do not have insurance to cover their great losses. These closures have now created greater unemployment, poverty and crimes.
Soup kitchens in different areas now struggles to serve rising numbers of hungry, jobless people, during the cold winter season, which is particularly harsh this year, in South Africa.  In the interim, "farm murders"[62] where elderly White farmers and family are savagely killed, are ongoing.  This has resulted in food security and supply chain problems for the embattled nation.
The current civil unrest was unusual in that while the community and criminals, including, reportedly the CEO of a medical practice, brazen looted large establishments, while the law enforcement looked on unconcerned.
There is a general feeling that the government must account for the national intelligence to forewarn and prevent the riots as the law enforcement's incompetence in managing the civil unrest.  Concern is also expressed by the belated deployment on 12th July 2021, of the South African National Defence Force[63], after the event. Presently, the stolen goods including large appliances, such a double and four door fridges, looted and transported by taxis while the security looked on in admiration.
Similarly, looted food, is repossessed by police conducting door to door searches, breaking down locks if residents are not at home, without any warrant, to be used as evidence in court against the arrested looters.
In the meantime, the Western Cape government, which is the Democratic Alliance[64] stronghold, as the main opposition party in South Africa, shuts down the disputed taxi route after violence, for two months as a resolution of the ongoing violent conflict between the competing taxi associations, was not possible, pending further negotiations. The army is guarding the affected taxi ranks[65].
Of note, is that apart from 47,500 vaccines being looted[66], vaccination teams enroute to rural villages, were not exempted from the violence.
Following the violence, food prices have rapidly escalated, with a price of a loaf of ordinary bread costing ZAR 40.00, when the usual price is ZAR 12.50. The consumer watchdog warns against opportunistic overpricing, after the looting in KwaZulu-Natal and threatens heavy fines for shop owners for exploitation of the communities.
While investigations continue, evidence is emerging that political parties were behind the attacks as these riots were strategically orchestrated by certain individuals[67], yet not bought to account, although reported arrests have been made.
There appears to be hidden agenda to loot, which resulted in a total of savage deaths of 330[68], people on both sides, confirmed as associated with the worst, nationwide civil unrest, post 1994 when liberation was achieved by the late icon of freedom, President Mandela.
The full, national impact this rioting will have on South Africa is yet to be established, but the preliminary damage assessment report estimates this be conservatively to be at least a billion Rands. The horrific rioting, murder and anarchy, in protest against the South African Judiciary, upholding the Constitutional law formulated[69] by the very group of Black people, post 1994.
President Cyril Ramaphosa[70] on Friday, 23rd July, characterised the week-long riots as a failed insurrection[71], is scheduled to address the nation on Sunday, 25th July, again, but the "Bottom Line" is that nothing matters, and nobody really cares about the values as practiced by the late, great Icon of Freedom, The Madiba.
The numerous building sized statues of President Mandela, including the 9-metre Mandela statue[72], weighing in at more than 3.5 tons, was unveiled on Monday, 16th December 2013 at the Union Buildings, in Pretoria.
These are specially crafted and placed in major cities, decry the looting, murder, torching, rampant corruption, human trafficking, exploitation and further marginalisation of the people of people of the Rainbow Nation. The looters have destroyed the moral compass set by all our liberation fighters, but mainly Nelson Mandela.
The international respect for South Africa is lost forever, as all these destructive activities, are hurting the very soul of the citizens of a "Free South Africa", as envisioned by Madiba. These actions are not generated by poverty but have now aggravated the ongoing sufferings of the masses and will certainly cause poverty.
The foreign investors and tourists to the beautiful country, feel insecure and augurs poorly for the present and future investments into the country.
The present chapter of violence is indeed "A Short Walk to Nowhere"[73] which the South Africans have embarked upon, for all of us must take collectively responsibility and the social maladies will only get worse. South Africans have passed the breaking point, with no peace, nor a liberated future, in sight.
This revered country is now a cauldron of anarchy, corruption, crime, systemic racism, xenophobia, vigilantism, illiteracy, abject poverty, suffering of masses, domestic violence, unemployment, abysmal spiraling economy, food insecurity and a viper nest of infectious diseases.
References:
[1] http://nelsonmandelas.com/madiba/
[2] https://www.webmd.com/lung/news/20210712/what-to-know-about-covid-delta-variant#:~:text=The%20Delta%20variant%2C%20also%20known%20as%20B.1.617.2%2C%20can,is%20now%20the%20dominant%20strain%20in%20the%20U.S.
[3] https://www.bing.com/images/search?q=mandela+quotes&qpvt=mandela+quotes&FORM=IGRE
[4] https://www.sahistory.org.za/people/nelson-rolihlahla-mandela#:~:text=Nelson%20Rolihlahla%20Mandela%20was%20the%20son%20of%20Nonqaphi,the%20branch%20of%20a%20tree%E2%80%99%2C%20or%20colloquially%2C%20%E2%80%98troublemaker%E2%80%99.
[5]https://en.wikipedia.org/wiki/Long_Walk_to_Freedom_(book)#:~:text=Long%20Walk%20to%20Freedom%20is%20an%20autobiography%20written,a%20leader%20of%20the%20then-outlawed%20African%20National%20
[6] https://www.imdb.com/title/tt2304771/
[7] https://www.videovision.co.za/anant-singh/#:~:text=Anant%20Singh%20is%20recognised%20as%20South%20Africa%E2%80%99s%20pre-eminent,Of%20Weeping%2C%E2%80%9D%20Sarafina%21%20and%20Cry%2C%20the%20Beloved%20Country.
[8] https://www.sahistory.org.za/article/robben-island
[9] https://tablemountainnationalpark.org/
[10] https://www.transcend.org/tms/2021/07/south-africa-is-burning-the-legacy-of-mandela-is-dead-for-a-nation-of-thieves/
[11] https://en.wikipedia.org/wiki/Qunu
[12] https://en.wikipedia.org/wiki/Nelson_Mandela
[13] https://www.anc1912.org.za/
[14]https://www.history.com/topics/africa/apartheid#:~:text=Apartheid%20%28%E2%80%9Capartness%E2%80%9D%20in%20the%20language%20of%20Afrikaans%29%20was,immediately%20began%20enforcing%20existing%20policies%20of%20racial%20segregation.
[15] https://en.wikipedia.org/wiki/Sharpeville_Massacre
[16] https://en.wikipedia.org/wiki/Winnie_Madikizela-Mandela
[17] Kenneth Chisholm (kchishol@rogers.com)
[18] https://www.littlebrown.com/
[19] Spencer, Clare. "The pitfalls of naming places after famous people". BBC News. 29 July 2011
[20]  "On Nelson Mandela International Day, recalling Mandela's life and legacy". The Leaflet. 18 July 2021.
[21] https://archive.nelsonmandela.org/index.php/za-com-mr-t-1001
[22] https://www.goodreads.com/author/show/35816.Antjie_Krog
[23] https://en.wikipedia.org/wiki/Justin_Chadwick
[24] https://www.williamnicholson.com/
[25] https://www.videovision.co.za/vision-statement/#:~:text=Videovision%20is%20a%20diversified%20company%20with%20operations%20that,entertainment%20and%20film%20studio%20and%20real%20estate%20development.
[26] Staff (13 March 2009). "Mandela's autobiography Long Walk to Freedom to be adapted into film". Xinhua News Agency. Archived from the original on 16 March 2009.
[27] https://en.wikipedia.org/wiki/Idris_Elba
[28] Jefferson, Lucette (22 February 2012). "Confirmed! Idris Elba set to play Nelson Mandela in Biopic". Huffington Post.
[29] "Nelson Mandela and Saths Cooper spent Christmas in prison together". UPI.com. 12 December 2014.
[30] https://www.facebook.com/FoxNews/videos/prince-william-and-his-wife-duchess-of-cambridge-kate-middleton-will-be-welcomin/10156158122961336/
[31] https://en.wikipedia.org/wiki/Zindzi_Mandela-Hlongwane#:~:text=Zindziswa%20%22Zindzi%22%20Mandela%20%2823%20December%201960%20%E2%80%93%2013,activists%20and%20politicians%20Nelson%20Mandela%20and%20Winnie%20Madikizela-Mandela.
[32] https://en.wikipedia.org/wiki/Zenani_Mandela-Dlamini
[33] https://en.wikipedia.org/wiki/Death_of_Nelson_Mandela
[34] https://www.imdb.com/title/tt2304771/trivia?ref_=ttqu_ql_1
[35] https://www.independent.co.uk/news/world/africa/nelson-mandela-funeral-final-farewell-madiba-buried-his-ancestral-home-9005937.html
[37] https://www.southafrica.net/gl/en/travel/article/nelson-mandela-burial-site-the-final-resting-place-of-nelson-mandela
[38] https://flymango.com/en/explore/south-africa-the-rainbow-nation
[39] https://www.britannica.com/biography/Desmond-Tutu#:~:text=Desmond%20Tutu%2C%20in%20full%20Desmond%20Mpilo%20Tutu%2C%20%28born,in%20the%20opposition%20to%20apartheid%20in%20South%20Africa.
[40] https://www.sanews.gov.za/south-africa/72-die-1-234-arrested-kzn-gauteng-lootings
[41] https://briefly.co.za/13829-7-quotes-ntate-madibas-memorable-speeches.html#:~:text=%207%20of%20the%20best%20quotes%20from%20Ntate,heart%20from%20our%20own%20experience%20and…%20More%20
[42]https://en.wikipedia.org/wiki/Ubuntu_(philosophy)#:~:text=On%20this%20view%2C%20ubuntu%20it%20is%20argued%2C%20is,recognition%20and%20appreciation%20of%20individual%20uniqueness%20and%20difference.
[43] utu, Desmond (2013). "Who we are: Human uniqueness and the African spirit of Ubuntu".
[44] https://en.wikipedia.org/wiki/Nguni_people
[45] https://en.wikipedia.org/wiki/Xhosa_people
[46] "About the Name". Official Ubuntu Documentation. Canonical. Archived from the original on 23 February 2013.
[47] File:Experience ubuntu.ogg Experience Ubuntu Interview.
[48] https://coronavirus.jhu.edu/map.html
[49]https://countrymeters.info/en/South_Africa#:~:text=The%20population%20of%20South%20Africa%20will%20be%20increasing,South%20Africa%20was%20estimated%20to%20be%2059%2C572%2C622%20people.
[50] https://en.wikipedia.org/wiki/Zondo_Commission
[51] https://www.eaglesvine.com/world-news/interpol-issues-red-notice-against-south-africas-gupta-brothers-associates/264399/
[52] https://www.brandsouthafrica.com/people-culture/democracy/the-south-african-human-rights-commission#:~:text=The%20South%20African%20Human%20Rights%20Commission%20is%20the,that%20everyone%20has%2C%20simply%20because%20they%20are%20human.
[53] https://www.msn.com/en-za/news/other/someone-must-account-for-law-enforcement-s-failure-to-prevent-riots-sahrc/ar-AAMtT3h?ocid=msedgdhp&pc=U531
[54] https://www.msn.com/en-za/news/other/i-will-be-back-very-soon-zuma-gives-positive-farewell-message-to-brother-as-he-returns-to-jail/ar-AAMsZ1E?ocid=msedgdhp&pc=U531
[55] https://www.cogta.gov.za/index.php/category/speeches/minister-dr-nkosazana-dlamini-zuma/
[56] https://en.wikipedia.org/wiki/Nkandla_(homestead)
[57] https://www.sahistory.org.za/place/gugulethu-township
[58] https://en.wikipedia.org/wiki/Khayelitsha
[59] https://en.wikipedia.org/wiki/Taxi_wars_in_South_Africa
[60] https://www.gatewayworld.co.za/
[61] https://www.bing.com/maps?&ty=18&q=Umhlanga%2C%20Durban%2C%20KwaZulu-Natal&satid=id.sid%3A743294b7-0f47-ba60-8efb-3f07c8cd213f&vdpid=8186138905813188609&mb=-29.703962~31.035059~-29.760931~31.094469&ppois=-29.732446670532227_31.06476402282715_Umhlanga%2C%20Durban%2C%20KwaZulu-Natal_~&cp=-29.732447~31.064764&v=2&sV=1&FORM=MIRE&qpvt=Umhlanga+Rocks
[62] https://www.afriforum.co.za/wp-content/uploads/2020/02/Farm-attack-and-murder-report.pdf
[63]https://en.wikipedia.org/wiki/2021_South_Africa_riots#:~:text=On%20the%20morning%20of%20Monday%2C%2012%20July%202021%2C,has%20been%20%22rarely%20seen%22%20in%20democratic%20South%20Africa.
[64] https://www.britannica.com/topic/Democratic-Alliance-political-party-South-Africa#:~:text=%20Democratic%20Alliance%20%28DA%29%2C%20South%20African%20political%20party,Party%20withdrew%20from%20the%20alliance%20the%20following%20year.
[65] https://www.timeslive.co.za/news/south-africa/2021-07-14-flare-up-in-taxi-war-sparks-looting-alarm-in-cape-town-city-centre/
[66] https://www.bing.com/news/search?q=47%2c500+vaccines+being+looted&qpvt=47%2c500+vaccines+being+looted&FORM=EWRE
[67] https://economy24.co.za/2021/07/government-moves-to-stop-next-phase-of-insurrection-in-south-africa-report/
[68] https://www.bing.com/news/search?q=Deaths+during+riots+in+South+Africa&qpvt=Deaths+during+riots+in+South+Africa&FORM=EWRE
[69] https://www.constitutionhill.org.za/pages/the-constitution-of-south-africa#:~:text=The%20Constitution%20of%20South%20Africa%20The%20highest%20law,right%20to%20life%2C%20equality%2C%20human%20dignity%20and%20privacy.
[70] https://en.wikipedia.org/wiki/Cyril_Ramaphosa
[71] https://affluencer.co.za/2021/07/government-moves-to-stop-next-phase-of-insurrection-in-south-africa-report/
[72] https://en.wikipedia.org/wiki/Statue_of_Nelson_Mandela,_Union_Buildings
[73] Title of a new book in preparation by the author.
…….

*Professor G. Hoosen M. Vawda (Bsc; MBChB; PhD.Wits):
Director: Glastonbury Medical Research Centre; Community Health and Indigent Programme Services; Body Donor Foundation SA.
Principal Investigator: Multinational Clinical Trials
Consultant: Medical and General Research Ethics; Internal Medicine and Clinical Psychiatry:UKZN, Nelson R. Mandela School of Medicine
Executive Member: Inter Religious Council KZN SA
Public Liaison: Medical Misadventures
Activism: Justice for All
Email: vawda@ukzn.ac.za