LOVUA, Angola, 28 March 2018 (UNFPA)* – "There was a lot of violence. Armed men abused and killed young girls, even while they were fleeing," said Felikanko, 44. She was one of more than a million people who escaped the outbreak of conflict in the Democratic Republic of the Congo's Kasai region. 
"Some people were attacked and raped, killed or taken hostage," Felikanko said.
The situation is one of the most neglected crises in the world, according to a survey of aid organizations.
Some 1.4 million people were displaced within the Democratic Republic of the Congo. Another 35,000 crossed the border into neighbouring Angola, seeking safety in Lunda Norte Province.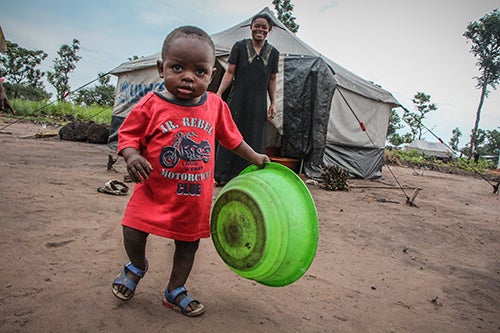 Felikanko, 44, lost many family members in the conflict. Today, she helps care for a boy whose mother was killed. © UNFPA Angola/Tiril Skarstein
.
Felikanko and her family are among the tens of thousands of refugees still living in Angola, almost a year after being displaced. They now live in a tent in the Lóvua refugee settlement.
"My aunt was killed, [as were] my uncle, and the wife of my younger brother, the mother of this young boy," she told UNFPA, lifting up a 1-year-old boy.
The child lives with his father, but Felikanko helps care for him. "He was only four months old, back then. Now I am responsible for looking after him," she said.
Deep scars
Though they have found shelter, the refugees' trials are not over. The horrors of the crisis and stresses of displacement have left deep scars.
"When they entered the village, they started to kill everybody, without exception," 50-year-old Antone told UNFPA. "In the chaos, you would not even know where your own children had gone."
Her family hid in a nearby house, but armed men set fire to the building. She was shot as she ran from the flames. "I pretended to be dead," she recalled. It saved her, but her husband and their two children were killed.
After the attack, men from her village carried her all the way to the Angolan border. "What I have had to go through, it has been terrible. It is terrible," she said.
Refugees are also worried about the loved ones they left behind.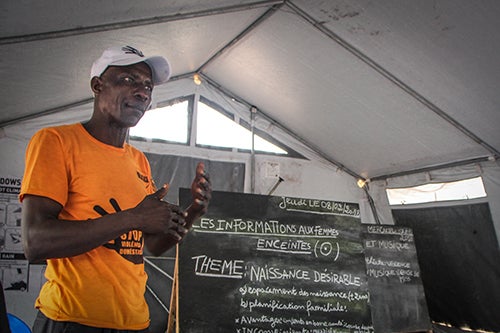 UNFPA's women-friendly spaces offer information on women's health and rights. This session teaches women how to safely manage a pregnancy, as well as where to deliver and how to access family planning. © UNFPA Angola/Tiril Skarstein
"There is a lot of malnutrition in Kasai now," said Felikanko. "People cannot move freely. They may not be able to get to the field or to the market, and it is not secure to go to the forest to look for something to eat."
The search for peace
"Armed men cut people's heads off. Many of the soldiers were just children," Marie-Claire, another refugee, told UNFPA.
She was a nurse and women's activist in her hometown of Kamako, and she continues this work in the Lóvua settlement.
Today, she works at a UNFPA-supported women-friendly space – a tent where women can safely receive sexual and reproductive health information as well as referrals to medical support and counselling. There are also educational and recreational activities.
"Here people can come to dance and talk and forget their worries," she said.
UNFPA is also supporting reproductive health care, including antenatal care and safe delivery services. The organization has also provided sexual and reproductive health supplies, including post-rape treatment kits, to the local clinics.
And UNFPA has provided all the women in Lóvua with dignity kits, containing hygiene supplies, including sanitary napkins, underwear and soap.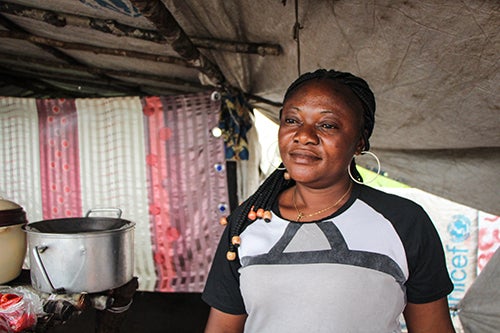 "We lost everything. Everything was left behind," said Dadi Ndaia, 28. © UNFPA Angola/Tiril Skarstein
These services are helping, the refugees say.
But the conflict has cast a long shadow.
"We lost everything. Everything was left behind," said Dadi Ndaia, 28. To support her family, she has built a makeshift restaurant out of wood and plastic sheeting. Her dises have become popular among refugees and humanitarian workers, but life is still not easy.
"Life was good before the conflict suddenly broke out in Kasai," she said. "I wish people in power knew how badly we need the peace to return."
Felikanko, too, wants authorities to pay attention: "The world needs to open their eyes to the gravity of what is happening in Kasai."
– Tiril Skarstein
Angola

Population : 29.8 mil
Fertility rate
5.6
Maternal Mortality Ratio
477
Contraceptives prevalence rate
15
Population aged 10-24
32%
Youth secondary school enrollment
Congo, Democratic Republic of the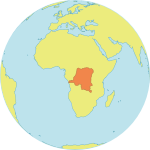 Maternal Mortality Ratio
693
Contraceptives prevalence rate
23
Population aged 10-24
32%
SOURCE: UNPFA – UN Population Fund. Go to ORIGINAL.