Two days of heavy monsoon rains have caused severe structural damage to camps in Bangladesh hosting one million Rohingya refugees from Myanmar, the International Organization for Migration (IOM) on 11 June 2018 reported.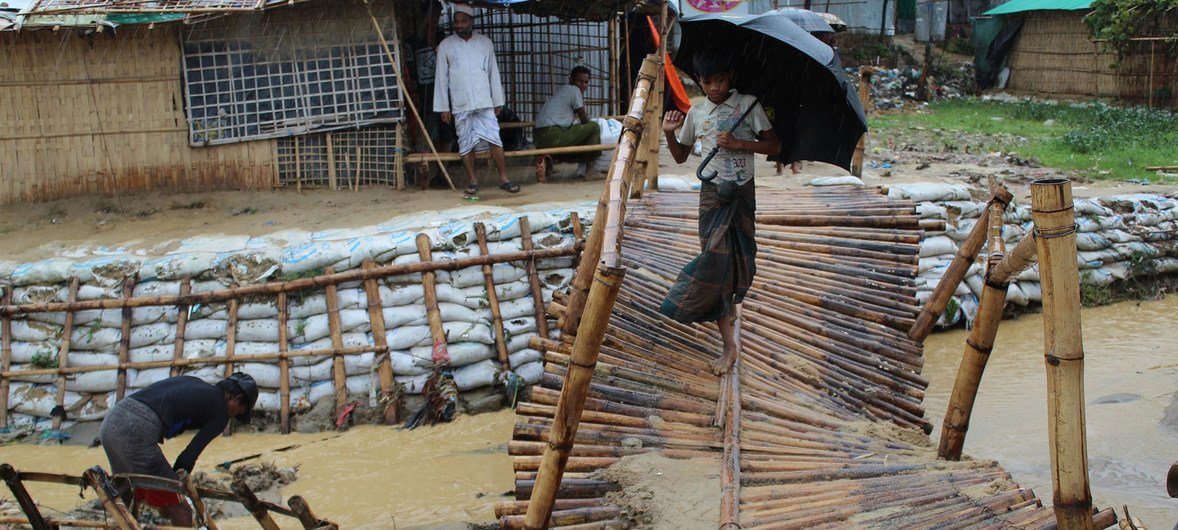 "The situation in the camps is growing more desperate with every drop of rain that falls," said Manuel Pereira, IOM's Emergency Coordinator in Cox's Bazar, the district in south-east Bangladesh where the refugees have settled.
The situation in the camps is growing more desperate with every drop of rain that falls -Manuel Pereira (IOM)
"You have close to one million people living on hilly, muddy terrain with no trees or shrubs left to hold the ground in place. People and their makeshift shelters are being washed away in the rains."
For months now, UN agencies and their partners have been warning of the threat posed by the monsoon season, which runs from June to September.
The rains began on Saturday [9 June 2018] and within 24 hours incidents including landslides, water logging, extreme wind and lightning strikes were recorded.
IOM said it is "working against the clock" to secure road access and drainage, and to improve preparations for more heavy rain to come.
The UN agency and its partners are also ensuring the refugees will continue to receive assistance such as access to water, sanitation and health.
However, it warned that risks remain huge, given the vast size and the nature of the makeshift camps.
The Rohingya are a Muslim minority community in Myanmar, where most citizens are Buddhist.
The majority of those in Bangladesh began arriving in the wake of violence in Myanmar's Rakhine state which began last August.
An agreement signed last week between the Myanmar government and UN agencies is expected to pave the way for scores of Rohingya to return to home, once their safety and rights are guaranteed.
It will also allow the UN refugee agency (UNHCR) and the UN Development Programme (UNDP) to access Rakhine state. (SOURCE: UN).
Related: