By Helen Buyniski*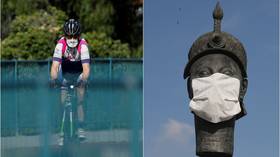 You don't have to be near people – or even alive! – to wear a mask… © Reuters / Mike Blake / Sergio Moraes
23 Apr, 2020 (RT)* —

As fear and uncertainty swirl around the Covid-19 epidemic, an invisible evil potentially lurking anywhere, protective measures like masks have taken on a talismanic quality, and a religion built on shaming 'heretics' is growing.
Unable to see the microscopic "enemy" and bereft of a scientifically proven cure, those seeking deliverance from the new coronavirus are left with only their faith that the measures prescribed by health experts –our scientific priest class– will work to keep it at bay. That's all well and good until those who buck the new orthodoxy are scapegoated for the plague.
read more »