The West-Iran conflict is extremely a-symmetric. It's the West that historically sought to influence, change, threaten, demand obedience, and punish–with sanctions and more. It liquidated high-level politicians and scholars, shot down a civilian plane, demonised and excluded Iran. Not to speak of giving Saddam Hussein the chemical weapons and the green light for his war on Iran in 1980.
Iran has not done similar harm to the West.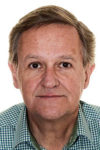 The conflict's roots go back to 1953 when the US's CIA and the UK's MI6 orchestrated a coup d'état, or regime-change, in Tehran and deposed the democratically elected Prime Minister, Dr Mohammad Mossadegh and installed the Shah and made Iran the most militarised country in the region (and gave it nuclear power).
Iran and the West have been on a collision course ever since around various issues. The biggest has been whether or not Iran should be "allowed" to have nuclear weapons. In addition to strong Western political pressure, sanctions and embargo have been imposed since 1987.
read more »