By Prof. Vandana Shiva*
31 October 2016 – Toward Freedom – TRANSCEND Media Service – For more than a century, a poison cartel has experimented with and developed chemicals to kill people, first in Hitler's concentration camps and the war, later by selling these chemicals as inputs for industrial agriculture.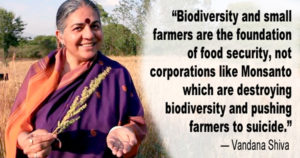 In a little over half a century, small farmers have been uprooted everywhere, by design, further expanding the toxic fields of  the industrial agriculture.
In India, a country of small farmers, the assault of the poison cartel has driven millions off the land and pushed 300,000 farmers to suicide due to debt for costly seeds and chemicals. The GMO seeds have failed to control pests and weeds.
Instead they are creating super-pests and super-weeds, trapping farmers deeper in debt.
And it is not just farmers who are dying. Our soil organisms and pollinators are dying. Our soils are dying. Our societies are dying. Our children are dying—because of diseases caused by food loaded with toxics.
The introduction of GMOs, by the Poison Cartel, has accelerated the crisis of disease and death.
read more »