By Maung Zarni*
23 January 2017 – TRANSCEND Media Service – The titles of articles on Myanmar's treatment Rohingyas speak volumes.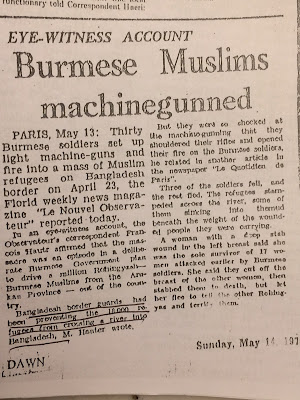 .
They will compel astute researchers to appreciate the systematic and deeply criminal nature of Myanmar's policies and treatment of Rohingyas:

Myanmar government has been committing crimes against humanity at best and genocide at worst.
1978
A Story of Rape, Arson and Murder, Eastern Times, 8 June 1978.
Cato Aall, "Disastrous International Relief Failure" A Report on Burmese refugees in Bangladesh from May to December 1978", Disasters, Vol. 3, No. 4, pp.429-34
William Mattern, REFUGEES: Burma's Brand of Apartheid, 14 July 1978, Far Eastern Economic Review, pp 30-32.
RESULTS:
THE EXODUS: over 277,000 – by Myanmar Military Intelligence's count.
REPATRIATION UNDER DURESS & WITH NO GUARANTEE OF SAFETY ONCE BACK IN BURMA: 210,000
DEATH BY STARVATION ON BANGLADESHI SOIL: 10,000 deaths of which 7,000 were infants and children
This was the direct result of Bangladesh gov. and UNHCR jointly reducing the nutritional rations to the refugees to the level far below what WHO considered necessary for survival.
"By late November 1978, the death rate in the camps was 33 per 10,000 per week, or eight and a half times the Bangladeshi average. Between May and December 10,000 refugees died, about 7000 of them children (Cato Aall, "Disastrous International Relief Failure" A Report on Burmese refugees in Bangladesh from May to December 1978", Disasters, Vol. 3, No. 4, pp.429-34 and Lindquist, p. 7)."
SOURCE: Research Notes by the human geographer colleague of mine named Nancy Hudson-Rodd of U of Tasmania, 16 Jan. 2017)
1991-92
"Burma: Rape, Forced Labor and Religious Persecution in Northern Arakan", Asia Watch, 7 May 1992, page 4
Bertil Lintner, "Diversionary tactics", Far Eastern Economic Review, 29 August, 1991, p.26. (Ne Win – still the real power post-8888 – was manipulating the anti-Muslim racism to divert public attention away from the military's economic and policy failures)
THE EXODUS: 260,000 Rohingyas
Repatriation: (I am still looking at the repatriation figures).
2015
two types of new framing emerges, which dishonestly and deliberately ignore the established history of Myanmar's persecution while absolving the Gov of Thein Sein any responsibility or culpability.
'communal conflict' or 'sectarian conflict'
'transitional problem of multi ethnic countries'
the actors that were involved in whitewashing of the state crime include the British Gov., Australian gov, Indonesian Government, international media, the American Ambassador Derek Mtichell, Aung San Suu Kyi (e.g., her infamous interview on BBC Radio Four with Mishal Hussain on 17 Oct 2013).
This allows groups like ICG and the Norwegian Nobel Institute to award or consider awarding their respective peace prizes to ex-General Thein Sein just as the man was presiding over another wave of state-condoned organized terror campaign against the Rohingyas.
THE OUTCOMES:
130,000 instant IDPS in camps;
several thousand Rohingyas locked up in Rakhine state jails;
unknown number of Rohingya deaths;
massive land grab for China and India's deep sea port construction
land clearance for Special Economic Zone project
"Irregular movements of people" –
over 100,000 fled by boats; thousands died in high sea in the Bay of Bengal and in South China Sea
Mass Graves in Thai and Malaysia border areas
(Because thousands of persecution fleeing Rohingyas at sea did not apply for asylum yet legal-hair-splitting morons in different UN and human rights organizations call the Rohingyas "migrants", creating profound disgusts towards some professionals in human rights and refugee expert circles.)
2016
Rohingya who fled to Bangladesh recount rape, murder at hands of Myanmar forces, 6 December 2016
2017 
'There Are No Homes Left': Rohingya Tell of Rape, Fire and Death in Myanmar, New York Times, 20 January 2017
OUTCOME SO FAR:
Over 65,000 Rohingyas fled Burma for Bangladhesh despite tight border control by Bangladesh
(the spike so far was 22,000 in one week, which is the Syrian exodus rate).
8-New Developments:
A) genocide charge is no longer frivolous, politically motivated, or hyperbole.
B) blanket denials from the Aung San Suu Kyi Gov & non-cooperation with the UN Special Rapporteur Yanghee Lee the media denial by Burmese language media outlets – such as Irrawaddy News Group, and virtually all Burmese journalists, as well as the USGov's VOA Burmese, all echoing the official blanket denial.
C) more sophisticated denials from Indonesian Foreign Minister Retno, Germany's Deutsch Welle, Nikkei Asian Review,etc.
D) ICG and Bertil Lintner sensationalize their "terrorism" "jihadist" concerns.
E) Malaysia emerges as a serious actor to want to address the Burmese gov's international state crime.
F) Muslim civil societies around the world have been thoroughly exercised by the news of muslim genocide in Buddhist Myanmar, which in turn compels OIC to take the issue seriously: OIC is holding its foreign ministerial emergency meeting to address the Rohingya persecution this Thursday in Malaysia.
G) Aung San Suu Kyi has lost her moral authority and international credibility having been exposed as a racist nationalist who cooperates fully with the military in the Rohingya genocide.
H) Kofi Annan, the man with a big baggage of his complicity in the Rwanda genocide, has been paid by Myanmar government to whitewash the crime against Rohingyas – and Annan is failing to do that – in the face of irrefutable victims' testimonies.
I) culturally conservative and sexist Rohingya communities where rape victims are usually blamed or re-raped even by Rohingya men have had a breakthrough: they are accepting and supporting scores of sexual violence victims – Rohingya women – and using the authenticated victims' tales of rape and gang-rape to highlight their plight in Myanmar and to call attention to the widespread use of rape as a weapon of subjugation by Myanmar Government's troops, and to a lesser extent, Rakhine locals.
WHAT DO THESE NEWS STORIES AND HEADLINES SAY ABOUT MYANMAR's TREATMENT OF ROHINGYA?
If you are conservative you will be compelled to say it is "crimes against humanity" (a long list of rights violation, WITH NO INTENT to destroy the Rohingya as a self-identified and identifiable group, irrespective of its ethnic name).
If you are more precise and enlightened in your reading of the Genocide Convention, Myanmar's treatment is categorically a genocide, no less.
The intent is often INFERRED from the PATTERN of deeds directed at the group in all its aspects: physical, mental, collective, symbolic, material, social foundations, identity, existence, etc.
There is no shades of grey in the objectives of Burmese government (or since 1989 Myanmar governments) in its persecution of the Rohingyas.
—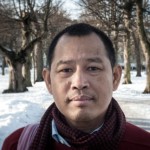 *Dr. Maung Zarni is a Burmese activist blogger, Associate Fellow at the University of Malaya, a member of the TRANSCEND Network for Peace, Development and Environment, founder and director of the Free Burma Coalition (1995-2004), a visiting fellow (2011-13) at the Civil Society and Human Security Research Unit, London School of Economics, and a nonresident scholar with the Sleuk Rith Institute in Cambodia.
His forthcoming book on Burma will be published by Yale University Press. He was educated in the US where he lived and worked for 17 years.
Go to Original – maungzarni.net
Source: TRANSCEND Media Service