International Day of Nowruz, 21 March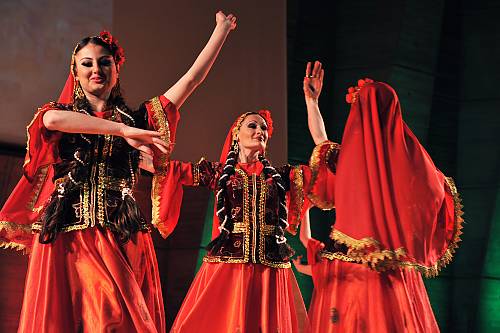 Celebration of Nowruz shared by several countries: Afghanistan, Azerbaijan, India, Iran (Islamic Republic of), Iraq, Kazakhstan, Kyrgyzstan, Uzbekistan, Pakistan, Tajikistan, Turkmenistan and Turkey.© UNESCO
21 March 2021 (UNESCO)* — Do you know what Nowruz, Nauryz or Nevruz mean? These words signify 'new day' for more than 300 million people around the world, and correspond to celebrations in large parts of Asia (Central, West and South) and from Southeast Europe to the Caucasus and Ural Mountain Range.
The International Day of Nowruz occurs on 21st March, the first day of spring in the northern hemisphere. Nowruz celebrations include a variety of rituals, ceremonies, traditional games, special dishes, performances and other cultural events which take place during a period of around two weeks.
Nowruz was originally inscribed on the Representative List of the Intangible Cultural Heritage of Humanity in 2009 by 6 countries and later in 2016 was extended to another 6. The countries who have jointly inscribed Nowruz are : Afghanistan, Azerbaijan, India, the Islamic Republic of Iran, Iraq, Kazakhstan, Kyrgyzstan, Uzbekistan, Pakistan, Tajikistan, Turkmenistan and Turkey.
Many of the gatherings, celebrations, ceremonies, and performances which are so central to the celebration of Nowruz could not take place in person this year due to the pandemic.
This has greatly affected the ability of many communities to practice and enjoy their living heritage as they would usually do. Still, despite the restrictions, communities have found new ways to come together and celebrate Nowruz.
While traditional gatherings around 'the Table' may be seriously restricted, many communities have taken to digital technologies to celebrate. In times of crisis, such traditions and festive events serve to bring people together, underscoring our need for social connection in turbulent times and contributing to community solidarity and togetherness.
Bearers and practitioners reacted to the pandemic in many ways:
For instance, in Azerbaijan, an online campaign was launched in 2020 with the hashtag #NoViruzGelir. This is a play on words where "Novruz gelir", meaning "Nowruz is coming", is associated with an anglicism that sounds like "No Virus Comes". The aim of this campaign, viewable on Youtube, was to encourage people to stay positive by carrying the message that the arrival of Nowruz would stop the virus from spreading.
In the Islamic Republic of Iran, a year after the outbreak of the pandemic, people are still encouraged to respect social distancing, with the authorities fully aware of the significance of Nowruz for many Iranians. Communities have increasingly used new technologies to connect and celebrate the occasion with their loved ones around the world.
In Kazakhstan, the National Commission for UNESCO is organizing a webinar on youth and the safeguarding of Nowruz traditions on March 26. While physical celebrations cannot take place this year, the webinar will allow for the transmission of knowledge across generations, between youth and their elders. The UNESCO Field Office in Almaty has also commissioned comics to celebrate Nowruz 2021. The comics depict Nowruz festivities from different countries across the region, encouraging children to engage with their ICH in a different way.
Through an online platform, we encourage communities to share their stories on how the pandemic has impacted their living heritage, including the celebration of Nowruz. Get in touch!