Ms. Towai lives in a pastoral community in Tangulbei, in Kenya's East Pokot County. Her husband was traveling with the family's livestock, searching for pasture and water.
"I had hope he would be around" when the baby came, Ms. Towai said. Still, she was not too worried.
"Two of my neighbours are birth attendants," she explained. The women live within Ms. Towai's "manyatta," or cluster of houses.
Delivering in a hospital was not an option; the nearest health facility was over 100 kilometres away. Instead, her community has long relied on traditional birth attendants and home deliveries.
Yet there was trouble brewing. The region has seen increased cattle rustling and armed conflict over pastureland and water.
"My children and I went to bed that day, as always, by 7:30 p.m.," she remembered. "About three hours into the night, we heard gunshots blazing into the manyatta."
Suddenly, her grass-thatched home was on fire.
Bandit attack
"I remember shouting at my children to run into the nearby bush," she said. "The only thing I managed to grab before dashing out of the hut was my polythene bag, which had my personal items."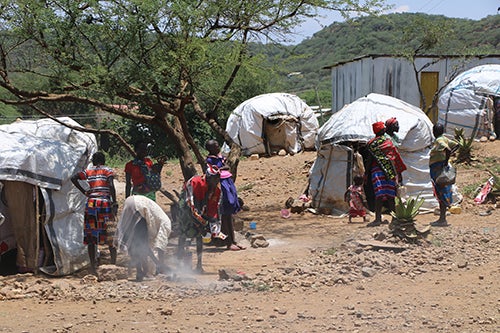 A displacement camp in Chemolingot, East Pokot, where Lena and her community members are staying. © UNFPA Kenya/Douglas Waudo
Her pregnancy made fleeing difficult. "I was heavy and tired. I couldn't run as fast as I wanted. But somehow I managed to get into the bush, though with much difficulty."
She and her children were separated.
"It was so dark in the bush, occasionally I would bump into logs of trees and hurt myself, but I kept moving, all while praying that my children were safe. I was alone and terrified," she said.
Then, two hours into hiding, she went into labour.
"I remember crying at the top of my voice for help," Ms. Towai recalled. "I was sure I was going to die, unless I got help."
But moments later, she heard a faint voice. It was her neighbour, one of the traditional birth attendants.
The woman had been shot in the leg. Fortunately, the wound was not life-threatening, and she was able to come to Ms. Towai's aid.
Four hours later, in the middle of the night, Ms. Towai gave birth to a baby boy.
A safe delivery
The bag Ms. Towai carried was a UNFPA-provided dignity kit, which she had received at a community event. UNFPA's dignity kits include hygiene items, such as sanitary napkins, soap, underwear and toothbrushes.
In her case, the bag also contained a clean delivery kit.
These kits are distributed to expectant mothers who may lack sterile birthing conditions –women without access to health facilities and those in crisis settings. The kits include a plastic sheet, razor blade, gloves, cloth and soap.
"That, I believe, is what saved my life," Ms. Towai said.
Dignity, safety and health
The day after the attack, she and her newborn son were reunited with the rest of their family at a displacement camp, which had been set up in a neighbouring district.
The camp currently hosts about 10,000 families, according to government records. Most of the residents are women and children.
Women do not stop getting pregnant or giving birth in emergencies. Yet crises dramatically elevate the risks to women and babies. About three fifths of all maternal deaths take place in emergencies and fragile settings, according to 2015 data.
UNFPA provides a range of sexual and reproductive health services in humanitarian settings, including pre-natal and safe delivery care. In the past year, 21,738 women and girls in humanitarian settings in Kenya have received services from UNFPA.
– Douglas Waudo
Kenya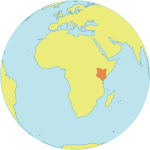 Population : 49.7 mil
Maternal Mortality Ratio
510
Contraceptives prevalence rate
64
Population aged 10-24
33%
Youth secondary school enrollment
Boys 57%
Girls 56%
.