Migrants who have made, or who are making the journey to the United States border in caravans confront increasing threats to their lives, liberty and security, United Nations independent experts said on 28 November 2018, calling for their full protection.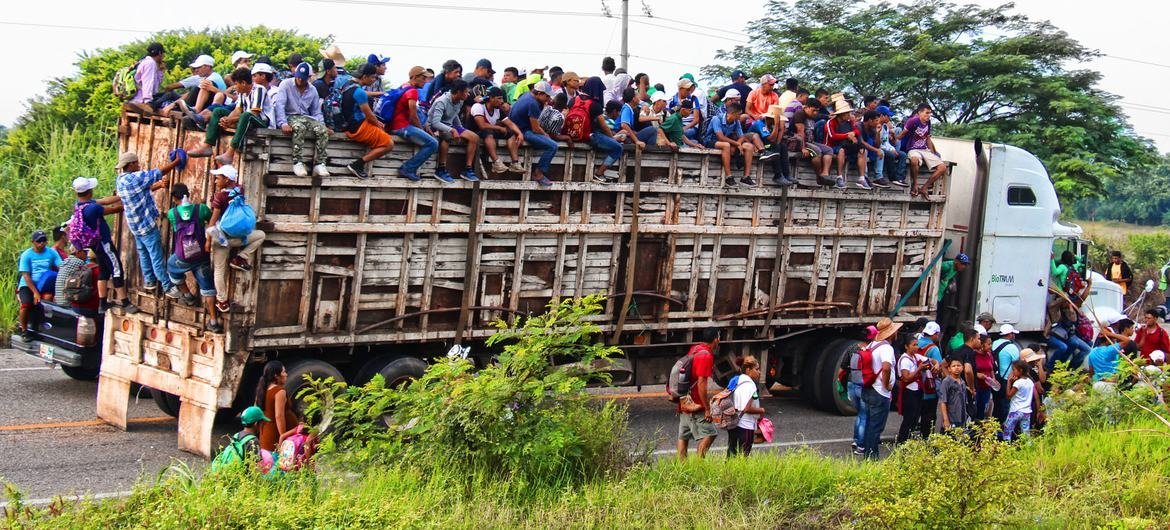 Nine UN experts pointed out that the migrants are seriously vulnerable, facing challenges such as shortages of healthcare, water, sanitation, food, and shelter. They are also at increased risk of trafficking and sexual exploitation.
"Rather than fueling tensions with hate speech and threats, Governments should work together to tackle inequality, poverty, social exclusion, violence, insecurity, environmental degradation and persecution as the main drivers of migration in Central America," they underscored.
Since mid-October, between 12,000 and 14,000 migrants have passed through the Guatemalan and Mexican borders heading to the US. While most are from Honduras, increasing numbers are joining from Guatemala, Nicaragua and El Salvador – including a significant number of families; single mothers with children under age five; some 100 lesbian, gay, bisexual, transgender and intersex persons (LGBTI); and people with disabilities.
On Sunday, US government agents on the Mexican border used tear gas on a crowd of migrants who made a desperate attempt to cross over, in the city of Tijuana, during a protest march. Hundreds have been sheltering in the city since arriving, hoping to seek asylum.
"Rather than fueling tensions with hate speech and threats, Governments should work together to tackle inequality –  UN experts 
Those caravans will not be the last ones unless the situation from which the migrants are fleeing, which for many includes extreme human rights violations, is considerably improved," the UN experts said, adding that cooperation between Central American States "is urgently required to develop more accessible, regular, safe and affordable migration channels."
In separate letters to the Governments of Guatemala, Honduras, Mexico and the United States, the UN experts voiced their concerns and called on them to abide by international law.
Hatred and xenophobia
The UN experts also raised the alarm over racist and xenophobic language, and US practices in terms of border control, which they say, fly in the face of international human rights equality and non-discrimination standards.
In addition to violating international law, the experts accused the US of stigmatizing migrants and refugees, by accusing them of importing crime and disease, fueling a climate of intolerance, racial hatred and xenophobia.
"This has detrimental effects on the right to mental health not only of migrants, but of the general public," warned the experts. "It is of particular concern that such rhetoric is expressed by high-level authorities, leading to the escalation and normalization of hate speech, incitement to hatred and discrimination in the political and public sphere."
The experts also voiced concern over sending military personnel to secure the US border.
"Experience shows that when armed forces are used to perform tasks that they are not trained to do, this usually leads to serious violations of human rights," they stressed.
In addition to the considerable risks the migrants face on their way to the US, upon arrival they must confront legal and asylum obstacles, as well as being possibly returned to face prosecution in their native country.
Asserting that origin countries should take measures to tackle the root causes of the mass migrations that links to violence and socio-economic insecurity, they argued that "threats to cut aid to the countries of origin of the migrants is counterproductive, as this may only worsen the living conditions from which these migrants were fleeing in the first place."
The UN experts are Obiora C. Okafor, Independent Expert on human rights and international solidarity; Dainius Puras, Special Rapporteur on the right of everyone to the enjoyment of the highest attainable standard of physical and mental health;  Leilani Farha, Special Rapporteur on adequate housing as a component of the right to an adequate standard of living, and on the right to non-discrimination in this context; Michel Forst, Special Rapporteur on the situation of human rights defenders; Felipe González Morales, Special Rapporteur on the human rights of migrants; E. Tendayi Achiume, Special Rapporteur on contemporary forms of racism, racial discrimination, xenophobia and related intolerance; Nils Melzer, Special Rapporteur on torture and other cruel, inhuman or degrading treatment or punishment; Maria Grazia Giammarinaro, Special Rapporteur on trafficking in persons, especially women and children; Ivana Radačić, Chair of the Working Group on the issue of discrimination against women in law and in practice.