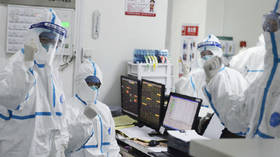 Members of the medical staff work at the Central Hospital in Wuhan, China. ©  Central Hospital of Wuhan via Sputnik
.
The Chinese government is undertaking some drastic measures to contain the spread of the new virus. Wuhan, a city of 11 million people, has been virtually quarantined, while strict travel restrictions have been imposed in the entire Hubei Province.
The are currently no vaccines for the novel coronavirus, which has been described as similar to the SARS (Severe Acute Respiratory Syndrome) pathogen, which killed hundreds in China and Hong Kong from 2002 to 2003. The disease is thought to have originated in an animal before being transmitted to a human, though the specific origins are still being debated.
ALSO ON RT.COM: Masks and airport checks for Chinese SARS-like virus are there to keep population calm – no government can stop its spread now
.