6 February 2017 (UN News)* —  While the exact number is unknown, at least 200 million girls and women in 30 countries throughout Africa, the Middle East and Asia have been subjected to female genital mutilation, or FGM, according to the UN Children's Fund (UNICEF).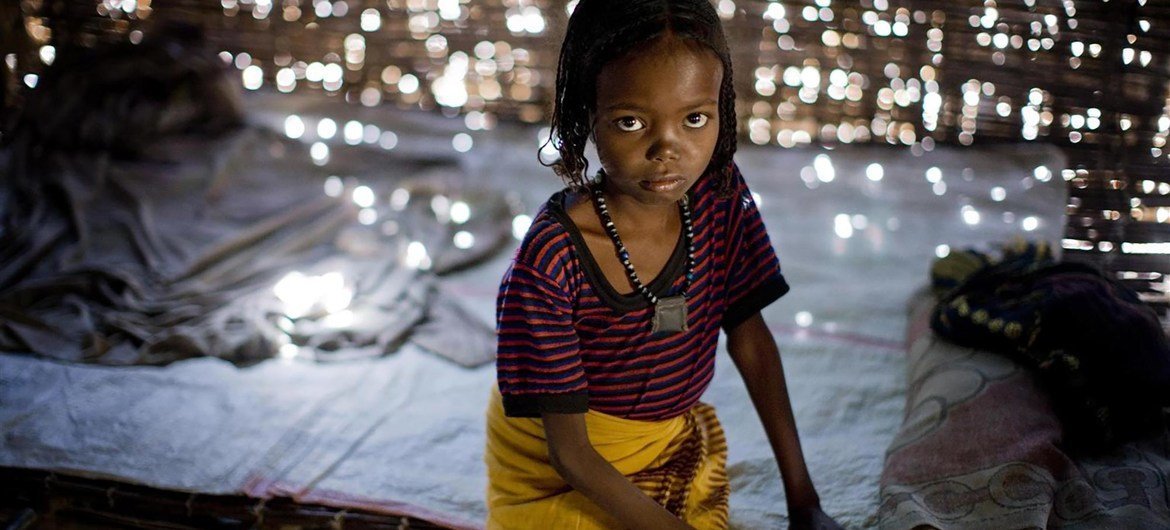 The World Health Organization (WHO) calls FGM a procedure that intentionally alters or causes injury to female genital organs for non-medical reasons. In lay terms, babies, girls and women are cut and their genitalia severed.
WHO underscores that it not only provides no health benefits, but may lead to a life-time of obstacles. Furthermore, the majority of females who have been subjected to the practice are between infancy and age 15.
No medical reason
A young woman in an Ouagadougou clinic in Burkina Faso has undergone reconstructive surgery to repair the damage caused by female genital mutilation at age 6. Photo: UNICEF/ Nesbitt
Female genital mutilation is recognized internationally as a violation of human rights of girls and women.
According to WHO, female genital mutilation has no health benefits, and it harms girls and women in many ways. It involves removing and damaging healthy, normal female genital tissue – interfering with their natural body functions.
In Mali, Fanta talks about the health complications she continues to experience as a result of female genital mutilation. While renounced in Sébétou Village in 2009, an estimated 85 per cent of Malian girls and women aged 15 to 49 have been subjected to FGM. Photo: UNICEF/ Asselin
It consists of all procedures that alter or injure female genitalia for non-medical reasons.
WHO also notes that the procedure has both short- and long-term consequences that range from severe bleeding and painful urination, to menstrual and psychological problems, cysts and infections. Sexual issues frequently ensue, childbirth complications arise and the risk of new born deaths increase. Subsequently, further surgeries are needed.
A dangerous tradition
Displaced women and men in Chad celebrate 'circumcision' days for girls by dancing together. During that time, several 11-years-olds were mutilated. Photo: UNHCR/ Hélène Caux
Female genital mutilation also violates women's rights to health, security and physical integrity, along with the right to be free from torture and cruel, inhuman or degrading treatment.
The UN notes that the practice reflects a deeply-rooted inequality between the sexes, constituting an extreme form of discrimination against women and girls.
Reasons behind female genital mutilations vary from one region to another, as well as over time. They include a mix of sociocultural factors within families and communities.
In Ethiopia, 6-year-old Asmah was forced to undergo female genital mutilation procedure. Her mother Bedria believes that Asmah could not marry honourably without it, saying, "From our own experience we know that [cutting] causes problems. However because it is the tradition, we continue to do it." Photo: UNICEF/ Getachew
Female genital mutilation is associated with misconceived cultural ideals of femininity and modesty, which include the notion that girls are beautiful after removal of body parts that are considered unclean, unfeminine or male. It is often seen as a necessary part of raising a girl – a way to prepare her for adulthood and increase her chances of marriage.
In Senegal, a village imam, Mamadou Dia, sits with other village men in a meeting – also attended by women – explaining why their village, Tatin Bambara, still practises FGM. Photo: UNICEF/ Grossman
Studies show that where female genital mutilation is a social norm, pressure to conform, along with the fear of being rejected by the community, are strong motivations to perpetuate the practice. In some communities, FGM is almost universally performed without question.
According to UNICEF, the hazardous practice has even infringed on girls' right to life – when it has resulted in their deaths as a result of shock, haemorrhage or septicaemia.
Taking a stance
In Kenya, Habiba refuses to subject her two youngest daughters – 7-year old Fathi, in white, and sister Kowsar – to female genital mutilation, fearing irreversible, life-long health complications, including psychological harm. Photo: UNICEF/ Christine Nesbitt
According to WHO, since 1997, great efforts have been made to counteract female genital mutilation, through research, work within communities, and changes in public policy.
Part of eradicating the practice is to find alternative occupations for FGM practitioners, such as being traditional birth attendants or teachers, and also cultivating situations in which men no longer wish to marry circumcised women.
Women from Samburu, Kenya, say no to female genital mutilation in public discussion gatherings. Photo: UNICEF/ Samuel Leadismo
Many target groups have been identified in the FGM elimination effort, including men, women, male youth, young girls and older women. It is important to reduce both the supply and demand for female genital mutilation.
Efforts should emphasize societal dialogue and community empowerment to collectively end the practice.
A former cutter in Uganda recommits to supporting the abandonment of female genital mutilation by appending her thumb print on a memorial during a cultural celebration event. Photo: UNICEF/ Nakibuuka
The UN Population Fund (UNFPA) says "collective abandonment" – or when a whole community chooses to no longer engage in female genital mutilation – is an effective way to end the practice. It ensures that no single girl or family will be disadvantaged by the decision.
UNFPA says the decision to collectively abandon FGM requires a process in which communities are educated about the practice and that health and human rights aspects are prominently feature. Local and grassroots organizations should play an important role in the process.
Ending FGM once and for all
Girls in Côte d Ivoire attend a communal meeting organized by the NGO OIS Afrique, a UNICEF partner working with communities and female genital mutilation practitioners to end the harmful traditional practice. Photo: United Nations
Ten UN agencies published a statement highlighting that having gained more knowledge on the practice itself, the reasons for its continuation and interventions that can more lead to its abandonment, a common, coordinated approach could lead to female genital mutilation being abandoned within a generation.
WHO underscored that according to research, if practicing communities themselves decide to eliminate female genital mutilation, the practice can be eliminated very rapidly.
At a community meeting in Kabele Village, Ethiopia, former FGM practitioner Boko Mohammed holds the tool she used to use while performing the procedure. Photo: UNICEF/ Holt
The elimination of female genital mutilation has been called for by numerous inter-governmental organizations, including the African Union, the European Union and the Organisation of Islamic Cooperation, as well as in three resolutions of the United Nations General Assembly.
UNFPA estimates the need to invest about $980 million to significantly impact FGM between 2018 and 2030.
United Nations steps-up action
Women attend an female genital mutilation sensitization session in Bamako, Mali. The session was run by UNICEF partner and local non-governmental organization (NGO) Sini Sanuma. Photo: UNICEF/ Bindra
Within the context of the UN, eliminating female genital mutilation is not a question of imposing external values on any particular country. UN resolutions in 2012, 2014 and 2016 on banning FGM, which include a target for its elimination in the new Sustainable Development Goals (SDGs), indicate strong political will from the international community to stem the dangerous practice.
The global SDG compact, adopted in 2015 by 193 Member States, calls for an end to FGM by 2030. Goal 5 on gender equality has a specific target to eliminate all harmful practices, such as child, early and forced marriage and female genital mutilation.
In an Ethiopian health care centre, Amin Aleba, said, "My wife and I made the joint decision not to have [9-year-old Medina] cut because of information that we gathered from the community meetings held in our village by Rohi-Weddu… I now understand that it is better for the health of our daughters that they remain whole." Photo: UNICEF/ Holt
Focusing on 17 countries, UNFPA and UNICEF together lead the largest global programme to accelerate the abandonment of female genital mutilation.
Entitled 'Accelerating Change,' the programme aims to protect women and girls from FGM through participatory, culturally-sensitive and human rights-based approaches. It also cares for survivors.
Working with governments, grass-roots partners and civil society – including religious and community leaders – Accelerating Change sets goals across legal and policy reform; services for prevention, protection and care; and collective actions in the social sphere.
Two girls in Senegal clap hands at an event celebrating the abandonment of female genital mutilation by several nearby villages. Photo: UNICEF/ Furrer
.
Read also:
Female Genital Mutilation Is 'an Abhorrent Human Rights Violation' Still Affecting Million of Women and Girls around the Globe – UN Chief